Oksana Masters spent her early childhood in Ukraine.
"I don't know why, but I love sunflowers, and I just have this vivid memory of being in a field of sunflowers, and how they felt like trees," she says. "They felt so tall."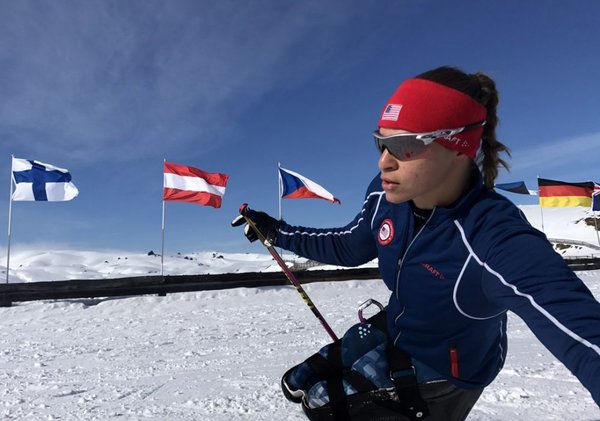 And for good reason. When she was 7, Oksana stood only 36 inches tall and weighed just 35 pounds. She was malnourished, but that wasn't the only reason she was small. Oksana was born in 1989, about 200 miles from Chernobyl, just three years after the nuclear disaster there.
"I was missing the main weight-bearing bone in both legs," Oksana says. "And the left leg, I didn't have a full knee. It was a floating knee. I had six toes. My hands were webbed, and I also have one kidney. I don't have a full bicep on my right side. Thank God my hair didn't get ruined. I could use a little more body, but I'm happy with it."
'It's Weird To Not Know What A Family Is'
Oksana's birth mother gave her up for adoption when she was a baby. Life was hard at the three orphanages she lived in, which were situated in the former USSR.
"One of the things that I remember is, like, just that pain in your stomach from when you're really, really hungry, and just how to ignore that feeling," Oksana says. "And sometimes you'd go to bed with no meals, or just a cup of soup, or just bread. And I remember one time sneaking out with a really good friend of mine. Her name was Lainey, and me and her were like each other's family."
Oksana and Lainey left their beds late one night to look for food in the kitchen. Someone heard them. They hid under a table, but Oksana accidentally bumped a chair. Lainey was beaten and taken away.
"And I remember asking where Lainey went. 'Something's wrong. I want to know where Lainey is.' And they're, like, 'Oh, yeah, she just got sick and ended up dying.' But I have a very different memory of that."
Amid this backdrop of abuse and starvation, there was some hope at the orphanage when potential adoptive parents visited. Oksana says she and all the children desperate to leave would wonder, "Is this my mother? Is this my family? I hope they choose me."