Forum rules
Communication only in English!!!
Messages in other languages will be deleted!!!
I found this thread after searching for information regarding Amputee Times Vol. 1 No. 2. I found an original copy in my magazine collection that I am interested in selling. It is in very good condition. Please contact me if you are interested tmmaple AT outlook dot com. I will not check DMs here. Thanks!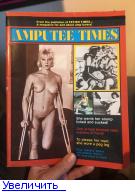 ---
TM_____
Similar Topics

Replies
Views

Last post
0 Replies
2233 Views
Last post by Mongmong
24 Jul 2019, 20:28
Who is online
Users browsing this forum: Google [Bot] and 1 guest