I met Jack several years ago, when I was twenty-two. He owns a company involved with making high tech hardware for the defense industry. I was hired as a legal aide and I wanted to be on the fast road to success. I became very good at handling all of the sensitive information that came to the firm, and I had gained Jack's trust in keeping it safe. This was fine, until one day, a man approached me in the street and asked me if I wanted to make more money than I had ever hoped possible! He told me that he wanted certain sensitive information, and in addition to being paid very well, he guaranteed that I would be kept out of anything linking me to the information. It all was so tempting! I told him that I would have to think about it. He told me that he could not only make me rich and keep me anonymous, but it was for "national security".
Well, I went for it! In the space of a few weeks I had made a very nice sum. Then my life changed forever!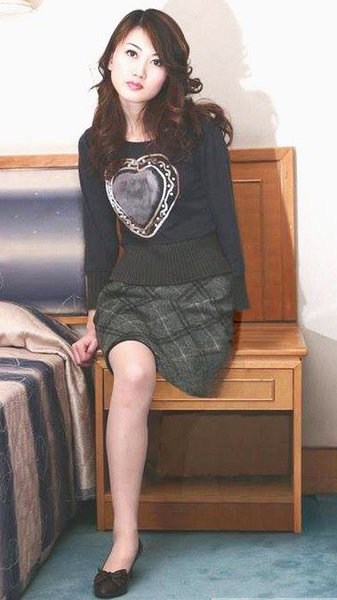 Jack asked me to his house to go over some papers. When I arrived I was amazed at the size and beauty of this mansion of his! It overlooked the water, and was the only place around for over a mile! I could only think what a wonderful place this would be to live and play! Little did I know how prophetic these words were!
When I got there he asked me to come into his office, and he locked the door behind me. He proceeded to explain to me each and every piece of information that I had leaked to this agent. He told me that the punishment for such an offense is a very long time in jail, and knowing his influence, I knew there was no way I could defend myself! I was absolutely devastated! I told him my side of the story, but to no avail. I sobbed in front of him and begged him to spare me. I was crumpled on the floor as he paced around me.
After several minutes he broke the silence. "Lynn, you're a very beautiful young woman, and I've always enjoyed your company. It would be a shame to waste such qualities on 30 years in jail, just because you couldn't control your ambition. My offer is that you will become my personal and fully devoted slave. The only freedom you will have is what I afford you. Anything I want, you will do, joyfully, without question. If you betray me, I'll prosecute you on charges of treason. You know my legal staff, so you know this is an inescapable reality for you. In return, you'll live in this mansion, and will be fully provided for. The rules will be absolute, and you'll find in return for your compliance, I will do everything to make your life very satisfying. I'll give you sixty seconds to make up your mind while I call the police."
I lay there, shivering in fear over what was happening to me. I cried for Jack to put the phone down, and promised my soul to him.
"Good! I'll have my man sent over to your place to get your things. In the meantime you are going to start your new life immediately. You will be cared for in every way, and in a few ways that will be very unusual. You will start by removing all your clothes and reporting to the parlor."
When I arrived, Jack and another man were there. The man opened a case. It was filled with needles and 'body jewelry'. He ordered me to stick out my tongue. He grabbed it with a pair of surgical forceps and ran a needle right through it! He pulled it out and put a pin with a silver ball on each end through it!
"This is to remind you of your situation. You'll have your nipples and p*ssy lips pierced as well.", Jack told me. My fear was overwhelming, and very exciting! Soon he was through. I had a three inch hoop ring in each nipple, two small, thick rings in my p*ssy lips, and a thin gold ring through my clit!
Jack told the man to leave. He told me that the rings were bonded shut and quite permanent. He took me to my bed. He handcuffed each of my limbs to the bed, and said that I would be released when he felt it was time. This was to keep me from playing with myself, knowing all too well how turned on I was!
He released me a couple of hours later and took me to the bathroom, where he told me to shower. He would join me to make sure I didn't try to get some relief by myself!
Afterwards he told me that I was a good slave, and made it with me like I've never done it before! He would play with the rings in my p*ssy, and soon I was completely over the edge! I had never before come this hard! My fear had turned to ecstasy!
I was instructed to never wear clothes unless told to. This was to remain accessible to Jack's desires any time, day or night. The way he takes care of me sexually is so exquisite that he could ask anything of me, and I would do it without hesitation! I soon forgot what it was like to wear clothes, and felt uncomfortable whenever I had to wear them! Soon I was completely willing to do anything he wanted, and that I had become his willing sexual plaything, and I would joyfully do anything for him just to have him! I relished in being his love toy!